You are always welcome
Updated 12th January 2022
Over the past few months, many of our locations have remained open so we can continue to support the people who need us. Where possible, we moved some of our services to online delivery, to reduce the number of people in one place at one time.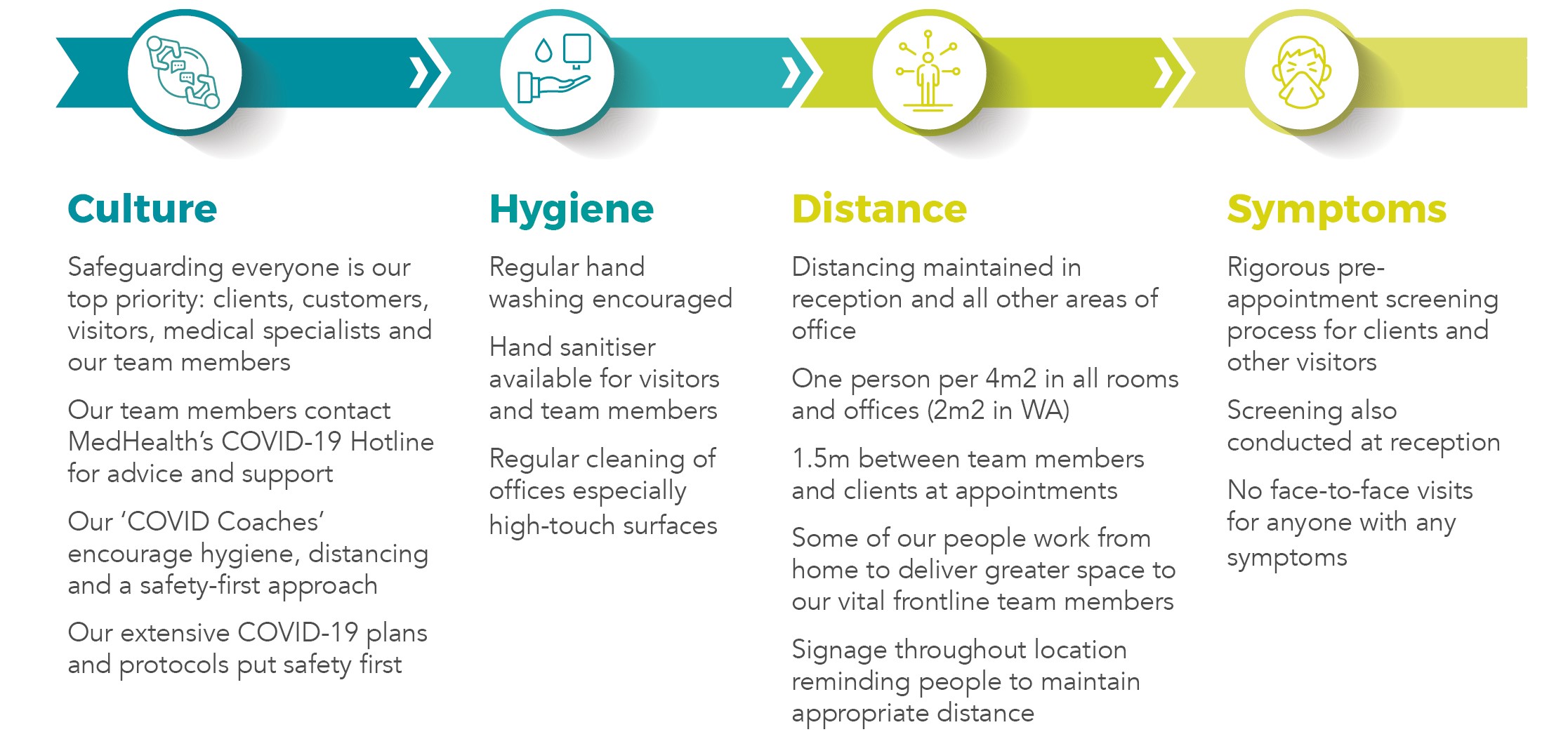 On-site peace of mind
At each of our locations, we have implemented the following measures:
Practising physical distancing of 1.5 metres between people
We operate with maximum people per square metre limits (one person per 4m2 or 2m2 in WA)
Increased cleaning of surfaces and high-touch areas with alcohol-based wipes
Hand sanitiser readily available for all visitors and team members
Our signage supports hygiene, behavioural and social distancing messages
If you have visited an exposure site, are experiencing cold/flu symptoms, taken a COVID-19 test in the past 7 days, or have been in close contact with a confirmed case, PLEASE DO NOT VISIT OUR OFFICES. Instead, please call our contact centre on 1300 080 856 to re-schedule your appointment.
A strong foundation to protect our clients and staff
Here's what else we are doing:
We have engaged medical experts to give us specific advice on safeguarding all people in our sphere of influence – customers, our team members, the doctors who work with us and people who visit us
We have plans and protocols for managing the safety of visitors to our premises, face-to-face appointments, visiting offsite premises, managing the workplace during COVID-19, events and cleaning
We have a special COVID-19 hotline in place for our people. Delivered by Cogent Thinking, the hotline service triages any potential instances of COVID-19 exposure and provides instant advice to our people
We monitor advice from the Health, Work Safety and Government authorities, adapting our plans to align with any updates
Our MedHealth COVID-19 Safety Management Plan is available if you would like to see it. Please get in touch with your usual atWork Australia contact or email contact@atworkaustralia.com.au
Here are some Government resources you may find helpful:
According to the Australian Government Department of Health, hand washing is still the easiest and most effective way to prevent the spread of germs (including viruses). Please remember to wash your hands regularly, following the hand washing protocol, or use hand sanitiser when hand washing is not available.
The Australian Government has set up a Coronavirus Health Information Line, which operates 24 hours a day, seven days a week. Please call this number if you have any health concerns or you're seeking further information – 1800 020 080.
atWork Australia will continue to monitor advice from the Australian Government and update this page accordingly.